Gibraltar is one of the most well-known locations for cryptocurrency regulation, and has been at the forefront of new blockchain technology since 2013. In a recent announcement, Gibraltar announced that it will be integrating public services with blockchain over the next few years.
Register now on Binance, add 50$ and get 100$ bonus voucher!
Gibraltar has announced the integration of blockchain technology with public services. The adoption is coming, and many people are wondering what blockchains are. Read more in detail here: what are blockchains.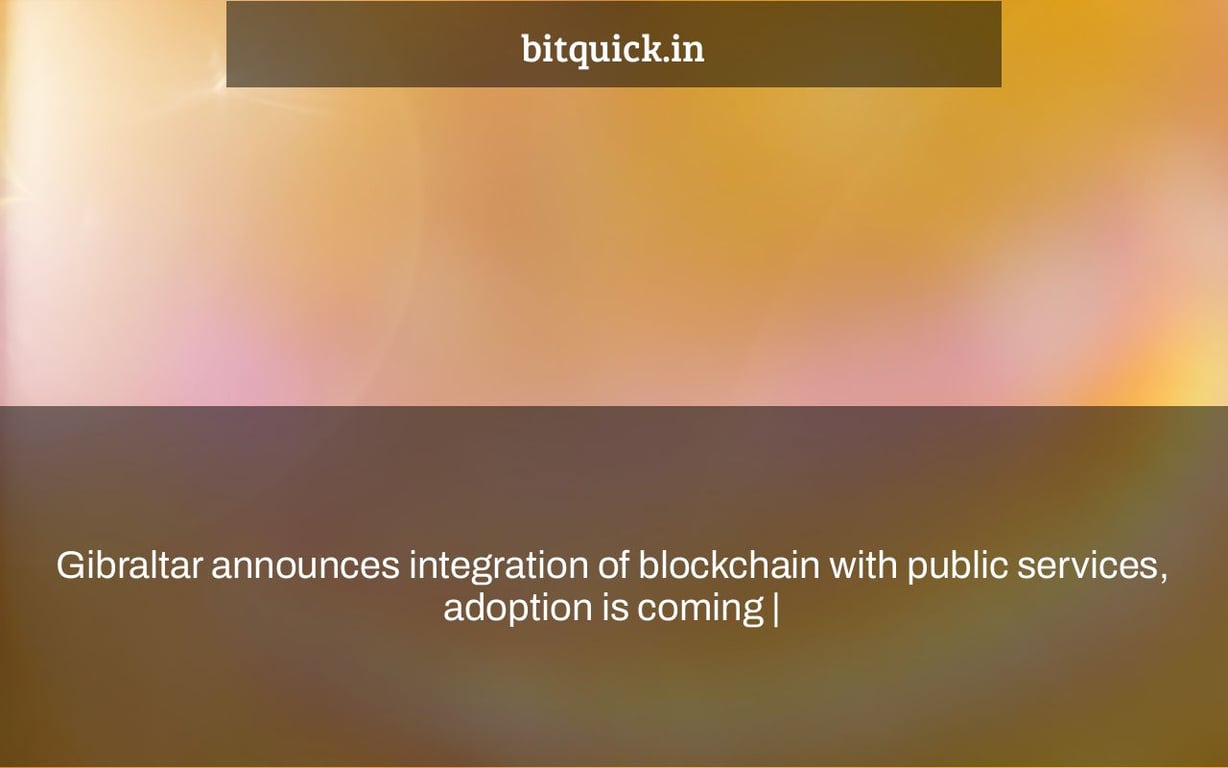 The government of Gibraltar, a British Overseas Territory, has stated that it would deploy blockchain technology to perform public services in a trial program.
"Blockchain technology will be tested as part of the experimental deployment to improve interconnectivity between government agencies, people, and organizations."
The blockchain technology will be used to test interconnectivity across departments, persons, and organizations as part of the implementation. Furthermore, the setup will be managed by Bitso, a Mexican exchange, and IOVlabs, a blockchain development firm.
Both companies were lauded for their contributions to the Gibraltar government's distributed ledger technology efforts. Particularly in terms of the tight working connection that has been developed and the important skills that they provide.
Gibraltar is promoting itself as a forward-thinking jurisdiction.
A distributed database network is referred to as a blockchain. While cryptocurrencies such as Bitcoin use blockchain technology, crypto is sometimes misunderstood as solely a speculative asset.
However, being a transparent and immutable system, blockchain has many more applications than money.
Gibraltar's current eGov system will be integrated and improved by the proposed blockchain technology. Users will be able to save government-issued and certified credentials at first. Although not mentioned specifically in the news release, it is understood that this refers to papers such as driver's licenses and passports.
According to Albert Isola, the Minister for Digital and Financial Services, Gibraltar is implementing blockchain in keeping with its forward-thinking intentions as an innovative country.
Register now on Binance, add 50$ and get 100$ bonus voucher!
"Gibraltar has established itself as a forward-thinking jurisdiction for creative enterprises creating and providing blockchain-related products."
Isola stated that he expects that by incorporating this technology into the region's public services, people's interactions with the government would improve.
"By incorporating blockchain technology into our operations in collaboration with our stakeholders here, we will be able to enhance the way our community interacts with the government even more."
Blockchain adoption roadblocks
While Gibraltar's acceptance and usage of blockchain is a huge step forward, there are still obstacles in the way of wider use of the technology.
TechTarget, a data-driven marketing agency, published an article highlighting some of the issues that are preventing widespread blockchain adoption.
This involves a skills gap among employees. As an emerging technology, according to TechTarget, there aren't enough adequately skilled professionals to go around. Furthermore, the cost and complexity of hiring talent deters many businesses from ever attempting it.
Some businesses are apprehensive about the technology and other (anonymous) users on the network, which is a source of worry.
"There are two aspects to this challenge: organizations may not trust the technology's security, and they may not trust other participants on a blockchain network."
Because there is no common norm, companies are forced to take a wait-and-see approach. Organizations are concerned about adopting a chain that may come apart because competing blockchains are unable to communicate with one another.
Organizations are hesitant to take the leap without broad compatibility.
Adoption, Gibraltar, Gibraltar, Gibraltar, Gibraltar, Gibraltar, Gibraltar,
Newsletter
The most relevant daily news in the worlds of crypto, DeFi, NFTs, and more are summarized here.
Gain a competitive advantage in the cryptoasset market.
As a premium Edge member, you'll get additional crypto insights and context in every story.
Analyses of the whole chain
Snapshots of prices
a little more context
For just $19 a month, you can become a member right now. Examine all of the advantages.
Watch This Video-
Related Tags
what's blockchain
blockchain crypto
blockchain news
Register now on Binance, add 50$ and get 100$ bonus voucher!